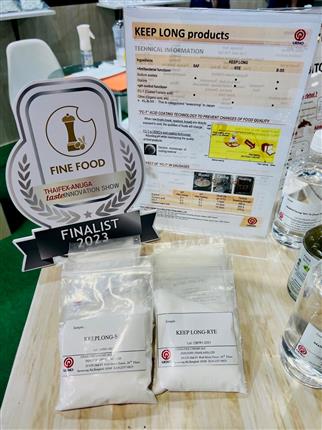 On May 23–27, 2023, UENO FINE CHEMICALS INDUSTRY (THAILAND), LTD. participated in the booth at THAIFEX – Anuga Asia 2023, IMPACT Exhibition Center, Muang Thong Thani.
"KEEP LONG" (shelf life extension product) was a finalist of innovation products at THAIFEX – Anuga taste Innovation Show 2023 and displayed at the entrance halls. It received a lot of interest from visitors. This is one of the company's achievement in developing innovative products. With the unique technology, "KEEP LONG" extends the shelf life of products and keeps the food quality for longer by adjusting the pH level and inhibiting the growth of microorganisms. This product can be applied to a variety of food products.
At our booth this year, we also presented the potential products, including sweetener "Sorbitol, Maltitol, Erythritol", sanitary products "KILLBACT®, CIDALLY®, KB-HAND", and ethanol emitter "ALVO®".
Our product attracted the interest of visitors, which was a great business opportunity to present our products to new customers. We are really grateful to all of customers, business partners, and visitors for taking the time to visit our booth.